5 Game-Changing Laptop Dimensions for The New Era of Business Mobility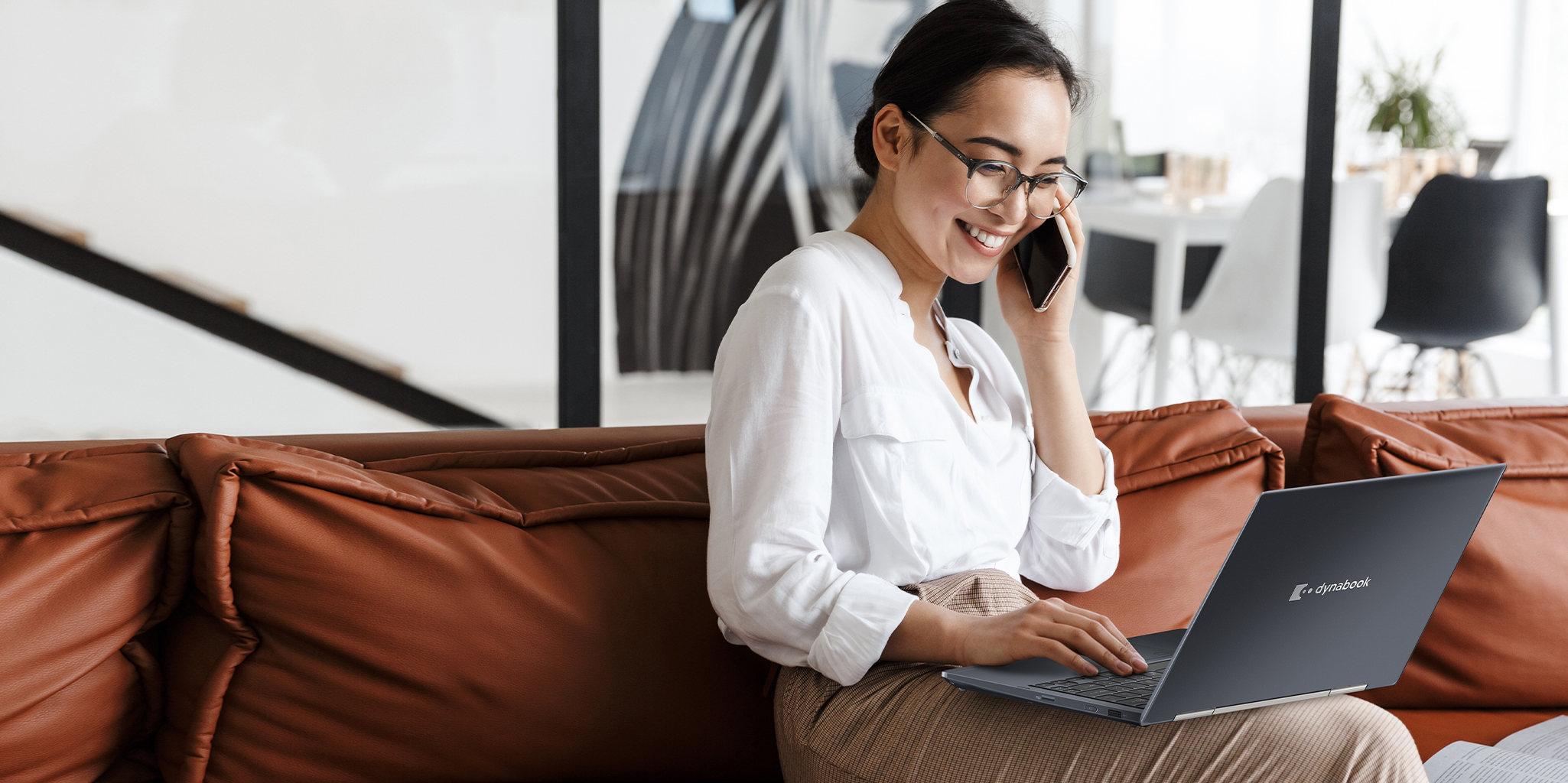 Ushering in a new era of business mobility, businesses have to rethink their workplace strategy to stay agile amidst unpredictable and volatile market forces. Hybrid working, combining remote and office working, is seen to be the long-term strategy most top businesses are adopting to restructure their workforce. Alicia Tung, Chief Operating Officer at Great Place to Work Institute, predicted that in 10 years, businesses will shift to a 60-40 hybrid working structure in terms of working in the office compared to working remotely1 .
At the core of any business, a trusted business laptop is crucial to getting work done productively and efficiently – no matter where they are. Co-engineered with Intel Evo, Portégé X30W-J, the latest Dynabook premium laptop, aims to deliver exceptional experience anywhere. The 2-in-1 convertible laptop strikes the perfect combination of 5 game-changing dimensions – performance, connectivity, portability, experience, and security, that is designed to fit the trends of business mobility and mobile productivity.

Artfully Constructed for Portability
Modern professionals working on-the-go appreciates laptops that are light in weight, yet heavy in performance. The Portégé X30W-J, the world's lightest 13.3" 2-in-1 convertible laptop, weighs less than 1kg and is 17.9mm thin, perfect for ultimate portability. Fitted with a thin, light magnesium alloy chassis with Corning® Gorilla® Glass NBT® and narrow bezels, there is no compromise on durability as the laptop is tested to MIL-STD-810G, protecting the device from everyday bumps and spills.

Unrivalled Powerful Performance Anywhere
Powered by the latest 11th Gen Intel® Core™ Processor, the Portégé X30W-J drums workday productivity up a notch to a whole new level with its new CPU architecture. Compared to 10th Gen series, laptops with 11th Gen Intel® Core™ Processor records up to 5x better AI performance2 , up to 1.24x better overall application performance3 , up to 1.23x faster web browsing4 , and up to 24% higher CPU performance5.
The Portégé X30W-J also comes with up to 32GB dual-channel RAM and 256GB PCIe NVMe SSD to reinforce its commanding processing capability. With an outstanding 16-hour battery life and quick charge feature, professionals working on-the-go can focus on getting their work done without worry. The instant wake capability recorded a sub-1s wake time to get things done when inspiration strikes.
Equipped with Dynabook's exclusive Active Pen incorporating Wacom® AES 2.0 Pen Technology with 4,096 levels of pressure, professionals can experience a natural pen-on-paper writing experience where they can take notes, draw, capture signatures, complete forms, and more. The Portégé X30W-J also has a new airflow cooling system to prevent overheating and keeping the laptop at an optimal temperature for maximum productivity.

Accelerating Convenience with Connectivity
When it comes to mobile working, connectivity plays an integral part of the entire out-of-office working experience. Professionals need a strong and stable connection to stay connected to their business no matter where they are.
Incorporated with the new Wi-Fi 6, the Portégé X30W-J achieves 3x faster Wi-Fi speed with up to 75% less latency, advanced traffic management and interface filtering features6. It also has an optional Gigabit LTE connectivity for enhanced convenience.
Beyond internet connectivity, professionals on-the-move appreciates traveling light without the need to carry additional hubs for multi-channel connection. The Portégé X30W-J is well-thought out to address this, with a comprehensive suite of ports ranging from Thunderbolt 4, which offers the fastest data transfers on a laptop, to HDMI ports.

Devising an Experience Like No Other
The crux of any remarkable laptop lies in its experience. With the new age of mobile computing, modern professionals demand an all-rounded experience from visual to ergonomic.
The Intel® Iris® Xe graphics engine offers stunning visual that are sure to capture attention and elevate the overall visual experience. With a backlit keyboard, a Precision TouchPad and Sharp IGZO display with an anti-glare screen, comfortability and convenience are ensured throughout the workday for enhanced productivity, especially when working long hours. The ergonomic user experience is rounded off with high quality speakers and 720p front facing camera.

As a 2-in-1 convertible laptop, the Portégé X30W-J has a stabilising dual-action hinge for seamless toggling between 5 viewing modes. Professionals can switch to the ideal viewing experience from laptop, audience, tabletop, presentation, and tablet modes, tailored to every situation or environment.

State-of-the-art Security Features
When it comes to security, all businesses are aligned that a secure laptop is fundamental to any operations, especially for businesses that handle sensitive data. With an increasing number of large corporations facing cyber-attacks, security is an imperative dimension that businesses across industries focus on.
Engineered to be one of the most secure laptops in the industry, the Portégé X30W-J is equipped with integrated security features such as face and fingerprint biometric login capabilities and Dynabook's proprietary BIOS. For added privacy, the built-in webcam shutter can be easily flipped to close to prevent camera hacking.

Meet the New Benchmark: Portégé X30W-J
The synergy of these 5 dimensions, along with Dynabook differentiators, set the new benchmark for business laptops that is designed to drive your mobility strategy when it comes to the future of work. Discover and experience Portégé X30W-J, the world's lightest 13.3" 2-in-1 convertible that offers the premium benefits of a laptop and agility of a tablet.
Learn more about how Portégé X30W-J can bring productivity for your business to the new heights:
Dbs-b2b@dynabook.com